---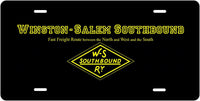 Winston-Salem Southbound Railway License Plate
6" x 12" .025 Gauge Aluminum

Includes 4 Mounting Slots & 1/2" Radius Rounded Corners

UV Protective coating to Prevent Fading

Image is reproduction - final product might differ slightly

Made in America
The Winston-Salem Southbound Railway is a 90-mile (140 km) short-line railroad jointly owned by CSX Transportation and the Norfolk Southern Railway (NS), which provide it with equipment. It connects with NS at the north end in Winston-Salem, CSX at the south end in Wadesboro, and in between with NS at Lexington and Whitney, the subsidiary High Point, Thomasville and Denton Railroad at High Rock, and the Aberdeen, Carolina and Western Railway at Norwood. Originally owned jointly by the Atlantic Coast Line Railroad and Norfolk and Western Railway, predecessors to CSX and NS, it was completed in November 1910.
In June 1960 the WSS acquired full control of the connecting High Point, Thomasville and Denton Railroad, which is similarly operated with equipment from both owners.
Between 1913 and 1985 the railroad was headquartered in the Winston-Salem Southbound Railway Freight Warehouse and Office. It was listed on the National Register of Historic Places in 1991.
Commodities carried by the railroad are grain, sand, gravel, stone, forest products, paper products, coal, coke, cement, clay fertilizer, aluminum, chemicals, iron, and steel. Principal shippers are Corn Products Company of Winston-Salem, a manufacturer of corn syrup and related products, and Owens Brockway Glass Company of Eller, a manufacturer of glass products.  (Credit - Wikipedia)