---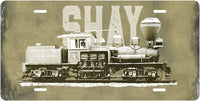 Shay Locomotive License Plate
    •    6" x 12" .025 Gauge Aluminum
    •    Includes 4 Mounting Slots & 1/2" Radius Rounded Corners
    •    UV Protective coating to Prevent Fading
    •    Image is reproduction - final product might differ slightly
    •    Made in America
Shay locomotives had regular fire-tube boilers offset to the left to provide space for, and counterbalance the weight of, a two or three cylinder "motor," mounted vertically on the right with longitudinal drive shafts extending fore and aft from the crankshaft at wheel axle height. These shafts had universal joints and square sliding prismatic joints to accommodate the swiveling trucks. Each axle was driven by a separate bevel gear, with no side rods.
The strength of these engines is that all wheels, including, in some engines, those under the tender, are driven so that all the weight develops tractive effort. A high ratio of piston strokes to wheel revolutions allowed them to run at partial slip, where a conventional rod engine would spin its drive wheels and burn rails, losing all traction.
Shay locomotives were often known as sidewinders or stemwinders for their side-mounted drive shafts. Most were built for use in the United States, but many were exported, to about thirty countries, either by Lima, or after they had reached the end of their usefulness in the US.