---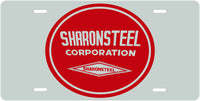 Sharon Steel Logo License Plate

    •    6" x 12" .025 Gauge Aluminum
    •    Includes 4 Mounting Slots & 1/2" Radius Rounded Corners
    •    UV Protective coating to Prevent Fading
    •    Image is reproduction - final product might differ slightly
    •    Made in America
A great change came about in the company when on March 10, 1936, the name was changed from the Sharon Steel Hoop Company to Sharon Steel Corporation. Today the name is well known in the steel industry.

Recognizing the need for further and greater outlets for its semi-finished products, in 1935 Mr. Roemer arranged for the purchase of a sheet mill located in Niles, Ohio. This mill, the Niles Rolling Mill Company, was made a subsidiary to the Sharon Steel Company, to produce sheet steel in various forms and finishes. It has provided an outlet for approximately 200,000 tons of semi-finished steel annually.

Many steel industries felt the effect of the depression, often finding themselves in financial difficulties. The Mullins Manufacturing Corporation, a stamping company of Salem, Ohio was no exception. Thus, in 1936, Mr. Roemer brought about a merger of Sharon Steel's subsidiary, the Youngstown Pressed Steel, and Mullins into what is known today as the Mullins Manufacturing Corporation. Since then, this company has made great progress as a producer of kitchen equipment, automobile stampings, range parts, washing machines, and refrigerators, and is doing a thriving business under its new management. The Sharon Steel Corporation still owns a substantial interest in the Mullins Corporation, with Mr. Henry Roemer as Chairman of the Board.
*Image is a representation and may not be exact