---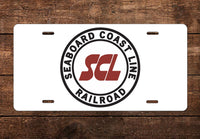 Seaboard Coast Line RR License Plate (White)

    •    6" x 12" .030 Gauge Aluminum
    •    Includes 4 Mounting Slots & 1/2" Radius Rounded Corners
    •    UV Protective coating to Prevent Fading
    •    Image is reproduction - final product might differ slightly
    •    Made in America
The Seaboard Coast Line Railroad (reporting mark SCL) is a former Class I railroad company operating in the Southeastern United States beginning in 1967. Its passenger operations were taken over by Amtrak in 1971. Eventually the railroad was merged with its affiliate lines to create the Seaboard System in 1983.
The Seaboard Coast Line emerged on July 1, 1967, following the merger of the Seaboard Air Line Railroad with the Atlantic Coast Line Railroad. The combined system totaled 9,809 miles (15,786 km), the eighth largest in the United States at the time.[1] The railroad had $1.2 billion in assets and revenue with a 54% market share of rail service in the Southeast, facing competition primarily from the Southern.
Prior to the creation of Amtrak on May 1, 1971, the Seaboard Coast Line provided passenger service over much of its system, including local passenger trains on some lines.[3] Local trains ended when the Amtrak era began. Although several named passenger trains survived through the Amtrak era, many were renamed or combined with other services.
The first expansion for the Seaboard Coast Line came in 1969 with the acquisition of the Piedmont and Northern Railway, which operated about 128 miles (206 km) in North and South Carolina SCL would buy out the remaining shares and gain control of the Louisville and Nashville Railroad in 1971, and the Durham and Southern Railway.
On November 1, 1980, CSX Corporation was created as a holding company for the Family Lines and Chessie System Railroad. In 1983 CSX combined the Family Lines System units as the Seaboard System Railroad and later became CSX Transportation when the former Chessie units merged with the Seaboard in December 1986.
Effective January 1, 1983, the Seaboard Coast Line Railroad became Seaboard System Railroad after a merger with the Louisville and Nashville Railroad and Clinchfield Railroad. For some years prior to this, the SCL and L&N had been under the common ownership of a holding company, Seaboard Coast Line Industries (SCLI), the company's railroad subsidiaries being collectively known as the Family Lines System which consisted of the L&N, SCL, Clinchfield and West Point Routes. During this time, the railroads adopted the same paint schemes but continued to operate as separate railroads.  (Credit - Wikipedia)