---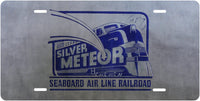 Seaboard Air Lines RR - Silver Meteor - License Plate


    •    6" x 12" .025 Gauge Aluminum
    •    Includes 4 Mounting Slots & 1/2" Radius Rounded Corners
    •    UV Protective coating to Prevent Fading
    •    Image is reproduction - final product might differ slightly
    •    Made in America
The SAL introduced the

 
Silver Meteor
 

on February 2, 1939. The name was selected via contest, with 30 people among 76,000 entrants proposing the winning name.  It was the first diesel-powered streamliner to Florida.
The SAL emphasized the train's modernness, referring to it as the "Train of Tomorrow" and having its first trip to Florida begin not from Pennsylvania Station, but from the

 
Long Island Rail Road
 

station at the

 
1939 New York World's Fair
. The train used seven new cars manufactured by the

 
Budd Company
. The original schedule took 25 hours.
The train ran between New York, NY, and Washington, DC on the

 
Pennsylvania Railroad
 

under a

 
haulage agreement
. Between Washington and Richmond it used the

 
Richmond, Fredericksburg and Potomac Railroad
, jointly owned by the SAL and five other railroads. From Richmond south SAL's own track was used via

 
Raleigh, North Carolina
,

 
Columbia, South Carolina
,

 
Savannah, Georgia
,

 
Jacksonville, Florida
 

and

 
Ocala, Florida
. Until the late 1960s the

 
Silver Meteor
 

split at

 
Wildwood, Florida
, with one section continuing to

 
Miami, Florida
, and the other to

 
St. Petersburg
and

 
Sarasota-Venice
 

on Florida's west coast.