---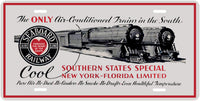 Seaboard Air Line RR - Southern States Special - License Plate
    •    6" x 12" .025 Gauge Aluminum
    •    Includes 4 Mounting Slots & 1/2" Radius Rounded Corners
    •    UV Protective coating to Prevent Fading
    •    Image is reproduction - final product might differ slightly
    •    Made in America
The Seaboard Air Line Railroad (reporting mark SAL), which styled itself "The Route of Courteous Service," was an American railroad whose corporate existence extended from April 14, 1900 until July 1, 1967, when it merged with the Atlantic Coast Line Railroad, its longtime rival, to form the Seaboard Coast Line Railroad. The company was headquartered in Norfolk, Virginia, until 1958, when its main offices were relocated to Richmond, Virginia.
As a strategic move to reduce costs and counter the competition of airlines and trucking companies, merger with the parallel system of Seaboard's chief rival, Atlantic Coast Line Railroad (ACL) was first proposed in 1958, but was not approved by the Interstate Commerce Commission until 1967. On July 1 of that year, SAL and ACL merged to form Seaboard Coast Line Railroad (SCL). The seeming redundancy of the name stems from combining the most common short forms of the two railroads' names: the public and the railroads themselves for many years had referred to SAL as "Seaboard" and ACL as "Coast Line."
On May 1, 1971, SCL turned over all its passenger operations to the newly formed Amtrak, which continued to operate the profitable Silver Meteor and Silver Star, while eliminating others.
On July 1, 1986, the Seaboard System's name was changed to CSX Transportation. Subsequently, the Chessie System was merged into CSX Transportation on August 31, 1987.