---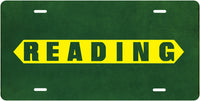 Reading Boxcar Logo License Plate
    •    6" x 12" .025 Gauge Aluminum
    •    Includes 4 Mounting Slots & 1/2" Radius Rounded Corners
    •    UV Protective coating to Resist Fading
    •    Image is reproduction - final product might differ slightly
    •    Made in America
 The Reading Company (pronounced Reading /ˈrɛdɪŋ/; logo typed as Reading Lines) operated an important railroad in southeast Pennsylvania and neighboring states from 1924-1976.

Commonly called the Reading Railroad, it was a successor to the Philadelphia and Reading Railway Company founded in 1833. Until the decline in anthracite loading in the Coal Region after World War II, it was one of the most prosperous corporations in the United States.

Competition with the modern highway system and short hauls[clarification needed] compounded the company's problems, forcing it into bankruptcy in the 1970s. Its railroad operations were merged into Conrail in 1976, but the corporation lasted into 2000, disposing of valuable real estate holdings.