---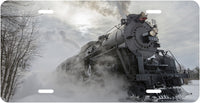 Pere Marquette 1225 (in snow) License Plate
Pere Marquette 1225 is a 2-8-4 (Berkshire) steam locomotive built for Pere Marquette Railway (PM) by Lima Locomotive Works in Lima, Ohio. 1225 is one of two surviving Pere Marquette 2-8-4 locomotives, the other being 1223 which is on display at the Tri-Cities Historical Society near ex-GTW coaling tower, in Grand Haven, MI. Nickel Plate 765(operated by the Fort Wayne Railroad Historical Society, Inc) is also a Lima built Berkshire very similar in appearance and specifications to the Pere Marquette engines.
The Pere Marquette Railroad used 1225 in regular service from the locomotive's construction in 1941 until the railroad merged into Chesapeake and Ohio Railway (C&O) in 1947; it remained in use on C&O's Michigan lines until 1951. Slated for scrapping, 1225 was acquired by Michigan State University in 1957 and placed on static display.
In 1971, work began to restore 1225 to operation, an effort that culminated in its first excursion run in 1988. The locomotive, listed on the National Register of Historic Places, is now used on excursion trains over the former Tuscola and Saginaw Bay Railway, now Great Lakes Central Railroad.
Aluminum 5.875" x 11.875" x .025"

Formulated to last outdoors

Slotted for easy mounting

Matte finish

Image is reproduction - final product might differ slightly

Includes Shipping