---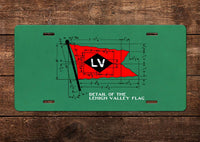 Lehigh Valley Railroad Flag License Plate
6" x 12" .025 Gauge Aluminum

Includes 4 Mounting Slots & 1/2" Radius Rounded Corners

UV Protective coating to Prevent Fading

Image is reproduction - final product might differ slightly

Made in America
The Lehigh Valley Railroad was one of a number of railroads built in the northeastern United States primarily to haul anthracite coal. It was authorized April 21, 1846 in the U.S. state of Pennsylvania and incorporated/established on September 20, 1847 as the Delaware, Lehigh, Schuylkill and Susquehanna Railroad Company. On January 7, 1853, the name was changed to Lehigh Valley Railroad. It was sometimes known as the Route of the Black Diamond, named after the anthracite it transported. At the time, anthracite was transported by boat down the Lehigh River; the railroad was meant to be faster transportation. The railroad ended operations in 1976 and merged into Conrail that same year.
During its existence, the Lehigh Valley Railroad used a rail line that later became known as the Lehigh Line in order for it to operate. The Lehigh Line was the railroad's first rail line constructed which was built in 1855 between Easton, Pennsylvania and Allentown, Pennsylvania and it served as the main line for the Lehigh Valley Railroad. Serving as the main line for the Lehigh Valley Railroad, the rail line expanded past Allentown to Buffalo, New York and past Easton to New York City, bringing the Lehigh Valley Railroad to these metro areas. During the early years, the line served as the body of the Lehigh Valley Railroad until the railroad either built more rail lines or railroads, acquired more rail lines or railroads, and merged other railroads into their system. The line was known as the Lehigh Valley Mainline during the majority of its time under the ownership of the Lehigh Valley Railroad, starting in the 1930s. The "Lehigh Valley" was absorbed along with several northeastern rail lines into Conrail; the main line became known as the Lehigh Line during the Conrail ownership. Conrail shortened the track miles by abandoning most of its route to Buffalo and some of the line entering New York City area. The Lehigh Line is now owned by the Norfolk Southern Railway. (Credit - Wikipedia)
As of 31 Dec 1925, 1363.7 miles of road, 3533.3 miles of track; as of 31 Dec 1970, 927 miles of road and 1963 miles of track.