---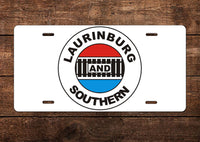 Laurinburg & Southern RR License Plate
6" x 12" .032 Gauge Aluminum

Includes 4 Mounting Slots & 1/2" Radius Rounded Corners

UV Protective coating to Prevent Fading

Image is reproduction - final product might differ slightly

Made in America
The Laurinburg and Southern Railroad is a short line railroad operating in North Carolina. The railroad has 28 mi (45 km) of track that runs south from Raeford to Laurinburg, North Carolina. In the past the Laurinburg and Southern controlled a number of other small railroads in North Carolina and Virginia. The railroad has been owned by Gulf and Ohio Railways since 1994.
The Laurinburg & Southern was formed on March 4, 1909 as the Laurinburg & Southern Railroad Company and began operations in July over a line from Laurinburg to Wagram. Additional trackage was purchased from the Aberdeen & Rockfish into Raeford in 1921.
In addition to rail services over the 28 miles (45 km) between Laurinburg and Raeford, the Laurinburg & Southern expanded to include several other short line railroads in North Carolina and one operation in Virginia. Acquisitions included the Fairmont & Western and Red Springs & Northern in 1984, the Franklin County Railroad and Nash County Railroad in 1985, as well as the Saltville Railroad in Virginia from 1982. The Yadkin Valley Railroad would begin operations in 1989 under L&S control.
Upon the 1994 acquisition of the Laurinburg & Southern holding company by Gulf & Ohio the railroad had been reduced to owning only its namesake line and two others, the Nash County railroad and Yadkin Valley Railroad. The other railroads had been abandoned or were out of service. The Nash County railroad and Yadkin Valley railroad are still operated by Gulf & Ohio along with the Laurinburg & Southern. (Credit - Wikipedia)