---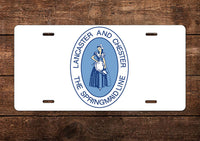 Lancaster & Chester (L&C) - Springmaid Line - License Plate
6" x 12" .032 Gauge Aluminum

Includes 4 Mounting Slots & 1/2" Radius Rounded Corners

UV Protective coating to Prevent Fading

Image is reproduction - final product might differ slightly

Made in America
The Lancaster and Chester Railroad (or "L&C" as it is commonly called) is a railway headquartered in Lancaster, South Carolina, in the United States. The original 29-mile (47 km) route connects Lancaster, in Lancaster County, with Chester in Chester County. The line's nickname is "The Springmaid Line" which refers to its original purpose of connecting the plants of the Springs Mills company.
In 1873, the Cheraw and Chester Railroad Company was granted a charter by a Special Act of the South Carolina General Assembly "to construct a railroad from Cheraw, in Chesterfield County, to Chesterville, in Chester County, by such route as shall be found most suitable and advantageous".
In those days, railroads were often built in sections using different contractors and money sometimes ran out before the line was tied together. This happened to the 3 ft(914 mm) narrow gauge Cheraw and Chester. In 1879, it made it the 22 miles (35 km) from Chester County to the Catawba River but did not cross it. On the other end, rail was laid from Cheraw to Pageland before the capital was exhausted in that direction. It operated for three years in these sections before being split. The Chester section was leased to the Charlotte, Columbia and Augusta Railroad who built a wooden bridge across the Catawba and extended the track one mile (1.6 km) beyond Lancaster in 1883. It was then leased to the Richmond and Danville Railroad, which in turn went into receivership. Meanwhile, the line from Cheraw to Pageland became the Chesterfield and Lancaster Railroad but never extended any further.
The receivers for the Richmond and Danville operated the line from Lancaster to Lenoir as one railroad, but neglected to pay expenses. It soon returned the Cheraw and Chester to its stockholders.  (Credit - Wikipedia)