---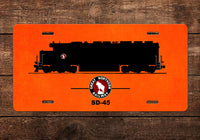 Great Northern RY License Plate
    •    6" x 12" .030 Gauge Aluminum
    •    Includes 4 Mounting Slots & 1/2" Radius Rounded Corners
    •    UV Protective coating to Resist Fading
    •    Image is reproduction - final product might differ slightly
    •    Made in America
Great Northern 400, named "Hustle Muscle", was the first production SD45 and preserved by the Great Northern Railway Historical Society, based out of Saint Paul, Minnesota.
The Great Northern Railway (reporting mark GN) was an American Class I railroad. Running from Saint Paul, Minnesota, to Seattle, Washington, it was the creation of 19th century railroad entrepreneur James J. Hill and was developed from the Saint Paul & Pacific Railroad. The Great Northern's (GN) route was the northernmost transcontinental railroad route in the U.S.
The Great Northern was the only privately funded – and successfully built – transcontinental railroad in U.S. history. No federal land grants were used during its construction, unlike all other transcontinental railroads.