---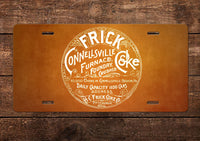 Frick Coal & Coke Company License Plate

    •    6" x 12" .030 Gauge Aluminum
    •    Includes 4 Mounting Slots & 1/2" Radius Rounded Corners
    •    UV Protective coating to Prevent Fading
    •    Image is reproduction - final product might differ slightly
    •    Made in America
Born to a farming family in western Pennsylvania, Henry Clay Frick was the grandson of a wealthy miller and distiller. Although Frick received little formal education, he early showed an aptitude for business and at 19 became bookkeeper for his grandfather's businesses.

Frick was aware of the potential value of coking coal deposits for the burgeoning steel industry, and with financial backing from relatives and the Pittsburgh banker Thomas Mellon he began buying coal lands in the Connellsville region and constructing coke ovens. The enterprise brought handsome returns. Plowing all profits into acquiring more coal land and building more ovens, Frick and Company eventually controlled 80 percent of the output of this region. Meanwhile Andrew Carnegie, aware of Frick's abilities as financier and industrial manager and anxious to have a continuing supply of coke for his great steel company, took Frick in as a partner in 1882 and allowed him to purchase an 11 percent stock interest.  At the same time, Carnegie purchased a controlling interest in the Frick Coke Company, though Frick continued as president.

Frick was one of the managing partners of the Carnegie Company until 1889, when Carnegie retired from active management and Frick was elected chairman. At this time the firm consisted of five or six mills and furnaces around Pittsburgh. There was no integration of production and no centralized management except the informal guidance supplied by the managing partners (a group of perhaps 6 out of about 25 owners of the business). In 1892, in accordance with a plan worked out by Frick, the productive units were reorganized as the Carnegie Steel Company, Ltd., capitalized at $25 million and, although not incorporated, probably the largest steel company in the world. Frick then introduced centralized management procedures which greatly increased the firm's efficiency.