---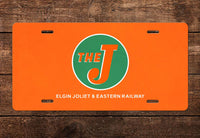 Elgin, Joliet & Eastern Railway License Plate
6" x 12" .030 Gauge Aluminum

Includes 4 Mounting Slots & 1/2" Radius Rounded Corners

UV Protective coating to Prevent Fading

Image is reproduction - final product might differ slightly

Made in America
The
Elgin, Joliet and Eastern Railway 
was a Class II railroad, operating between Waukegan, Illinois and Gary Indiana. The railroad served as a link between Class I railroads traveling to and from Chicago, although it operated almost entirely within the city's suburbs, and only entered Chicago where it served the U.S. Steel South Works on the shores of Lake Michigan. Nicknames for the railroad included "
The J
" and "
The Chicago Outer Belt Line
". At the end of 1970, the EJ&E operated 205 miles of road on 985 miles of track, carrying 848 million ton-miles of revenue freight in that year alone.
On September 26, 2007, the Canadian National Railway announced that it planned to purchase a majority of the EJ&E, leaving a portion of the line in Indiana to be reorganized as the Gary Railway. The purchase was approved on December 24, 2008 by the U.S. Surface Transportation Board, and the deal was consummated effective February 1, 2009. In the years immediately following the merger, the railroad existed as a subsidiary of Canadian National, and EJ&E locomotives that were repainted into CN colors were sub-lettered for the EJ&E.
On December 31, 2012, Canadian National announced that the merger of the EJ&E into Wisconsin Central Ltd. (Another railroad subsidiary of CN) had been completed, and would take effect the following day. On January 1, 2013, the EJ&E effectively ceased to exist, 124 years to the day it was founded.   (Credit - Wikipedia)