---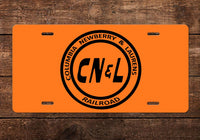 Columbia, Newberry & Laurens (CN&L)(Caboose Orange) License Plate
6" x 12" .030 Gauge Aluminum

Includes 4 Mounting Slots & 1/2" Radius Rounded Corners

UV Protective coating to Prevent Fading

Image is reproduction - final product might differ slightly

Made in America
The Columbia, Newberry and Laurens Railroad (reporting mark CNL) was a 75-mile (121 km) railroad line between Columbia and Laurens.
In 1885, the South Carolina General Assembly issued a charter for the Columbia, Newberry and Laurens Railroad, and the line was officially christened on Christmas Day 1885. In 1890, work began on the track and by July 1891, the line was complete from Columbia through Newberry to Dover Junction, nearly 65 miles (105 km) north of the state capital. In 1896 the Laurens Railroad was purchased from the Richmond & Danville Railroad to complete the line to Laurens.
The first locomotive of the CN&L was built in 1887 and sold in 1922. The CN&L ran daily passenger trains from Union Station in Columbia to Laurens, always pulled by steam until discontinued in 1952.
Not surprisingly, the railroad saw to the creation of towns along its line. Towns such as Irmo, Chapin, Little Mountain, Prosperity and Joanna owe their existence in part to their locations along the CN&L.
In 1924 the Atlantic Coast Line Railroad acquired control of the line. It became part of the CSX Transportation system in 1984.  Logo is an adaptation of F.W. Martin's from his book.