---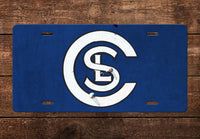 Chicago Surface Lines License Plate
6" x 12" .030 Gauge Aluminum

Includes 4 Mounting Slots & 1/2" Radius Rounded Corners

UV Protective coating to Prevent Fading

Image is reproduction - final product might differ slightly

Made in America
The Chicago Surface Lines (CSL) was operator of the street railway system of Chicago, Illinois, from the years 1913 to 1947.  
The first streetcars in Chicago were horse cars run by the Chicago City Railway Company and the North Chicago City Railway Company around 1858-1861. This method was slow and expensive, and the companies began substituting cable cars in the 1880s. Chicago City Railway was the first in (1881), and with the addition of the Chicago Passenger Railway (1883) and the West Chicago Street Railroad Company (1887), Chicago had the largest cable railway system in the world. The north and west side cable car systems were constructed by an investment syndicate under the direction of Charles Yerkes.
It was also in the 1880s that electric-powered "trolleys" first became practical. The Chicago companies hesitated at first to install these faster and more efficient systems because of their heavy investment in cable cars. But the smaller Illinois cities and the Calumet Electric Street Railway of the South Side built successful systems, causing the Chicago companies to feel themselves dropping behind. By the mid-1890s most of them had begun the conversion to electricity, which was completed in 1906.