---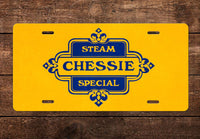 Chessie "Steam Special" License Plate

    •    6" x 12" .030 Gauge Aluminum
    •    Includes 4 Mounting Slots & 1/2" Radius Rounded Corners
    •    UV Protective coating to Prevent Fading
    •    Image is reproduction - final product might differ slightly
    •    Made in America
As the Sesquicentennial of the first railroad in America was approaching, its largest descendant, the Chessie System, was looking to celebrate by offering fans rides on a steam-powered excursion along the original right-of-way between Baltimore and Ellicott City, MD. A small steam engine and some cars should do...
And then Chessie's former Lead of Passenger Operations William F. Howes, Jr had a chance meeting with Ross Rowland, who had just wrapped up the American Freedom Train project that had dominated his life for six years -- and had left him with a massive operational steam locomotive that now had no particular purpose. Might the Chessie use it, Howes wondered?
Rowland prepared a pitch to the Chessie Board of Directors for a grand vision -- a summer-long series of main line excursions across the entire breadth and depth of the Chessie rail network, centered around a special steam-powered train of two dozen cars. Despite Howes' reservations that the board might not be ready for something so grand, Rowland delivered his full presentation -- and walked away with a green light for 99% of it. Rowland's credentials with steam operations and Howes' credentials with passenger operations made believers of the board. Of course, it didn't hurt that Chessie President Hays T. Watkins was a big fan of steam.
The Chessie Steam Special ran its first Tour on May 7, 1977 from Baltimore to Ellicott City -- and beyond. Over the course of the next five months, the train ran some 46 successful tours in celebration of the B&O's Sesquicentennial. Nearly 20,000 rode the train. Hundreds of thousands came to watch is pass by at trackside.
The train was such a PR success story that a second season was soon planned for 1978. As predicted, the huge steam locomotive drew thousands to the train. It performed flawlessly. At least until it didn't. After two years on the American Freedom Train and some 40 excursions on the Chessie, the locomotive was sent off for overhaul just prior to the end of the first season. When it came back on April 30, 1978, it was like a new machine..
Good thing, because the second season was even more ambitious than the first. For six months the big yellow train, now four cars longer, ran excursion after excursion across the Chessie System. Often, the trips were completely sold out -- with clients, employees and their families, and railfans from all walks of life clamoring for tickets. And none of it would have been possible without the volunteer efforts of hundreds of Chessie employees who manned the cars and assisted the passengers on every journey.
In the end, the Chessie Steam Special was the greatest public relations tool, team-building exercise, and client appreciation program the railroad had ever produced in its 151 years