---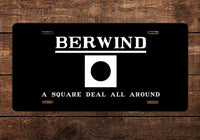 Berwind Coal Company License Plate
6" x 12" .030 Gauge Aluminum

Includes 4 Mounting Slots & 1/2" Radius Rounded Corners

UV Protective coating to Prevent Fading

Image is reproduction - final product might differ slightly

Made in America
The Berwind-White Coal Mining Company, forerunner of today's Berwind, began operations in 1886 and soon established a proud tradition as one of the nation's leading coal producers. By the late 1950's, however, coal was being supplanted by oil and other energy sources, and it had become clear that the possibilities for meaningful growth were limited.
In 1962, a new generation of family management assumed leadership roles and developed plans to diversify. The first step was to redirect utilization of the company's considerable coal reserves from actually operating the capital-intensive, cash-demanding mines to leasing those mines and reserves to others.
This redeployment of coal assets produced considerable cash flow which was then used to establish a significant presence in other industries.